What is Peripheral Artery Disease or PAD?
Peripheral artery disease (PAD) is a circulatory condition in which the blood vessels are narrowed causing reduced or blocked blood flow to your extremities.  This is usually due to the build-up of fatty plaque in your arteries, and while this can happen in any blood vessel, it occurs most commonly in the legs.  The resulting poor leg circulation can lead to excruciating leg or hip pain, non-healing foot or leg ulcers, or even more serious issues like stroke or loss of limbs if left untreated.
According to the Society for Vascular Surgery, approximately 10 million Americans suffer from PAD.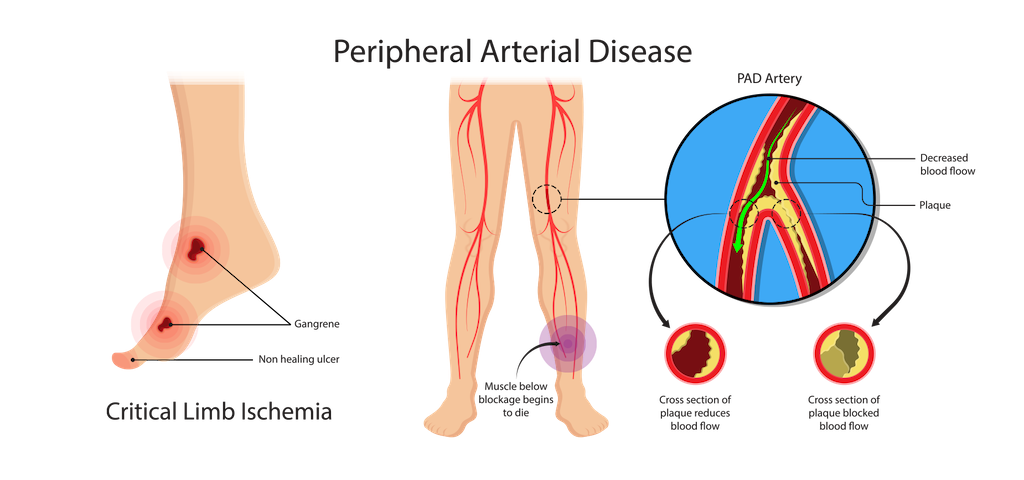 What are symptoms of PAD?
Classic symptoms of PAD include pain, cramping, or tiredness in the buttocks, hip, thigh, or calf which starts while walking. Non-healing foot or leg ulcers or wounds are also very common.
Who is at risk for PAD?
Those with a high-risk factor for developing PAD include people that have:
Diabetes
High blood pressure
High cholesterol
Atherosclerosis (the hardening or narrowing of your arteries)
End stage renal disease
Or people who:
Walking and PAD
Many patients with PAD do not need medical intervention right away. Learn more about the walking program at CTVS and how regular walking can improve PAD symptoms:
When should you see our PAD specialists at CTVS?
It's time to make an appointment with one of our board-certified vascular specialists if you experience any of the following situations–some may even require urgent attention:
Difficulty with walking or pain with walking

If you have pain or cramping in your calf, thigh, or buttocks when walking and that pain is relieved when you rest.

Early signs of a threatened extremity

You notice your feet are cooler in temperature, you develop hair loss or shiny skin on your feet or legs, or have slow growth of your toenails.

Progressive signs of a threatened extremity

You develop numbness, weakness, or small ulcers on your toes, feet, or lower leg. These are early signs of tissue death from PAD and you should be seen urgently.

Severe signs of a threatened extremity

If you have severe pain in your foot at rest, develop black/darkened toes, or develop severe ulcers. These symptoms require immediate consultation.
What are the most effective treatment options for PAD?
Diagnostic testing is conducted in our own fully-accredited Vascular Lab where we can obtain measurements of blood flow and how well your arteries and veins function.
Following diagnostic testing, your treatment plan may include one or a combination of the following:
Medical Therapy – An important part of vascular health is optimizing both your medical therapy as well as your health habits. We work with various healthcare providers to ensure you are on the right medications.  In addition, we offer counseling for tobacco cessation and exercise therapy.
Minimally Invasive Procedures – We can treat patients with PAD using a minimally invasive, percutaneous technique referred to as an arteriogram. We will use balloons, stents and atherectomy devices to restore blood flow to your damaged extremity.  These procedures are usually performed conveniently at our own Vascular Intervention Suite (VIS) without the need to go to the hospital.
Surgical Revascularization – Unlike other specialties, we are certified in open surgical techniques which are better suited in certain situations when less invasive options are not feasible. These include limb bypass (surgery to reroute the blood supply around a blocked artery) and endarterectomy (surgical removal of part of the inner lining of an artery).
Foot and Leg Wound Care – We work with podiatrists and other wound care specialists to promote wound healing and preserve tissue.
Amputation – When necessary, our vascular surgeons perform amputations to save patients from life-threatening complications. At CTVS, we have an extensive limb preservation program and perform amputations only as absolutely necessary. We work with you and prosthetic specialists to help you return to your daily activities.
What does after-care look like following PAD treatment?
Our physicians will give you specific instructions when you leave our office or the hospital about recovery times and returning to work or your regular activities. Depending on your treatment, most patients return to our office within three months to ensure adequate blood flow to your extremity.  PAD can be a progressive disease, therefore we like to visit with you at least once a year to prevent any further complications.
Our CTVS board-certified vascular surgeons specializing in PAD are: